Tactical harnesses are essential gear for working dogs and active canines. Not only do they provide control and restraint, but the best tactical dog harnesses are comfortable, durable, and customizable. With so many options on the market, it can be overwhelming to select the right tactical harness for your dog.
To help you make an informed decision, we've compiled expert reviews on the top-rated tactical K9 harnesses for 2023. Whether you need a harness for training, patrolling, hunting, hiking or any rugged adventures, this guide covers the most recommended models available today.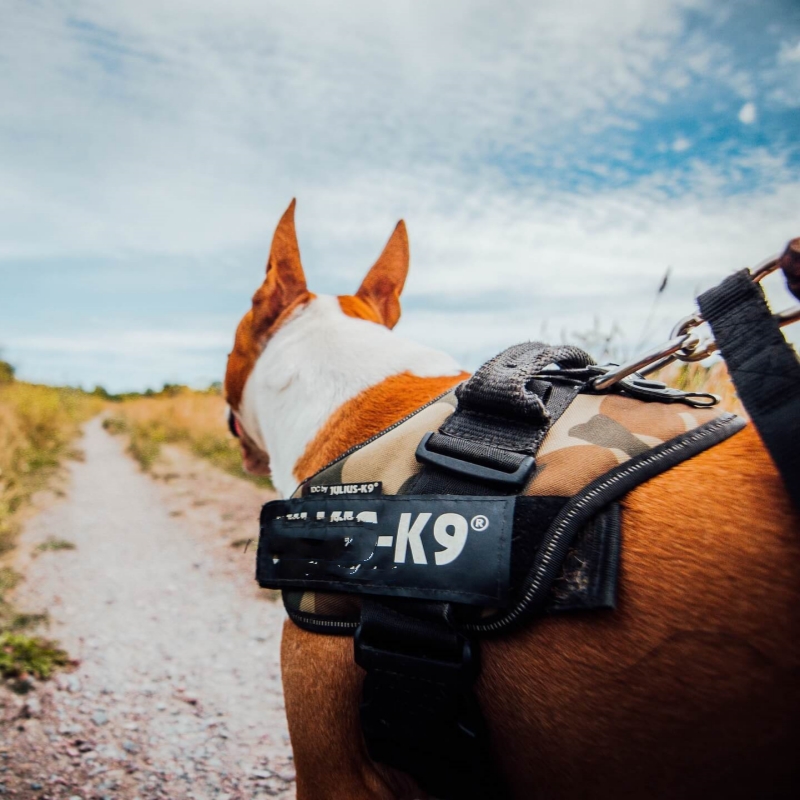 What to Look for in a Tactical K9 Harness
A high-quality tactical harness should check these essential boxes:
Durability: Made with tough, abrasion-resistant materials to withstand rugged activities
Comfort: Padding in crucial areas, adjustable for the perfect customized fit
Control: Front and/or back leash attachments for walking, handles for restraint
Customization: MOLLE panels or velcro to attach pouches and patches
Quick Release: For fast donning and doffing in high-stress situations
Other nice-to-have features include a drag handle for pulling/lifting dogs up, a discreet transmitter pocket, and reflective trim for low-light visibility.
Reviews of the Top 7 Tactical K9 Harnesses
Based on expert testing and reviews from police K9 handlers, search and rescue teams, military working dog handlers, and avid adventurers, here are the top-rated tactical harnesses for dogs in 2023:
The K9 Doberman Tactical Harness is an excellent choice for active Doberman owners seeking a comfortable, durable, and multi-functional option.
Key features:
Padded design with breathable mesh for comfort
MOLLE system to attach gear and pouches
Top handle and front/back leash rings for control
Velcro ID panel to display patches
Easy on/off design with quick-release buckles
Crafted from premium 1000D nylon, this harness is built to last through all your adventures together. The MOLLE system and velcro ID panel provide ample customization options.
And the padding ensures your Doberman stays comfy no matter how long you're out. For an all-purpose harness ready for training, walking, travel and more, the K9 Doberman Tactical Harness is a superb pick.
The K9 Tactical Dog Harness unleashes your dog's potential for any activity or training.
Key features:
Heavy-duty 1000D nylon construction
Adjustable custom fit
Padded chest and belly straps
The control handle and leash rings
MOLLE panel and velcro ID board
This rugged tactical harness provides strength, comfort, and versatility to equip your dog for specialized jobs or outdoor fun. The durable material and precise stitching withstand repeated use, while the padded design ensures a secure and comfy fit. With multiple handles and leash options, you'll enjoy excellent control.
Customize the harness with the MOLLE system and ID patch for the perfect mission-ready look. For unmatched performance in any scenario, choose the K9 Tactical Dog Harness.
The Alpha K-9 Tactical Dog Harness earns top marks for its heavy-duty durability, unmatched control, and customization options.
Key Features:
1000D nylon construction
Padded chest and belly straps
Handles on top and back for control
Quick-release buckles
MOLLE panels and velcro ID patch
This harness provides exceptional strength and comfort for everything from patrol work and detection to hiking and camping adventures. The padded straps ensure a secure yet comfortable fit, while the multiple handles give you control no matter the situation.
The MOLLE system allows you to customize the harness by attaching pouches and gear. Plus, the Velcro ID panel lets you showcase your dog's name, badge, or morale patches.
For police, military, and working dog handlers who need ultimate durability and control, the Alpha K-9 Tactical Harness is a top choice. The premium materials and smart design make this harness well worth the investment.
Designed by former police K9 handlers, the Signature K9 Tactical Patrol Harness provides outstanding control and customization for working dogs.
Key Features:
Heavy-duty nylon construction
Padded chest and belly panels
Front and back leash attachment points
Quick-release buckles
MOLLE panel and velcro ID patch
This harness uses double-ply nylon webbing layered with comfortable neoprene padding to prevent chafing and irritation. The padded belly strap and adjustable girth strap ensure a secure and customized fit.
Dual leash attachment points on the back and chest give excellent control no matter where your dog is positioned. For restraint, a top handle allows you to easily lift and steer your dog.
The MOLLE panel and velcro patch board provide ample room to attach pouches and show off your dog's ID. For professional working dogs, this feature-packed harness delivers comfort, control, and custom looks.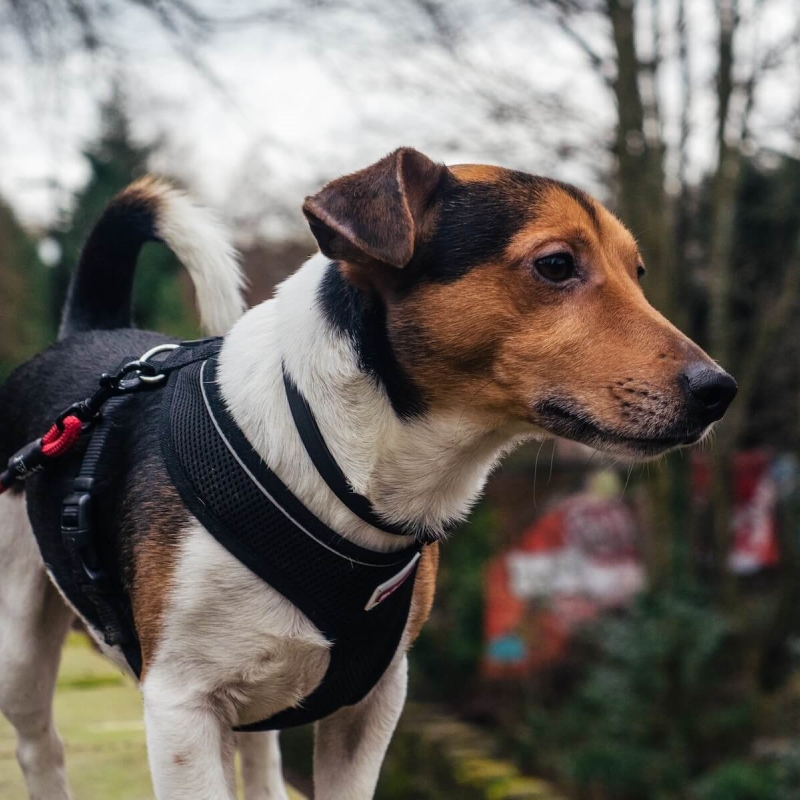 The EliteSpanker Tactical Dog Harness boasts heavy-duty construction with a budget-friendly price point.
Key Features:
1000D nylon material
Padding in chest and belly straps
V-ring front leash attachment
Handle and drag loop on the back
Velcro panels for patches
This tactical harness is built from durable, abrasion-resistant 1000D nylon webbing and is accented with bar-tacked stitching for enhanced toughness. The padded chest and belly panels ensure a secure yet comfy fit.
The V-ring on the front of the harness connects your leash for excellent control during walks and training. On the back, a top handle and drag loop provide options for lifting or pulling your dog.
Velcro panels on the sides and top give you space to display your dog's ID or morale patches. For an affordable but heavy-duty tactical harness, the EliteSpanker model is a great choice.
Specifically designed for service dogs, the OneTigris Tactical Service Dog Vest provides comfort, control, and convenience.
Key Features:
500D nylon construction
Padding in chest, belly, and shoulder straps
Front and back leash attachments
Quick-release buckles
Velcro panels for patches
Spacious cargo pockets
This vest-style harness is constructed with durable, water-resistant 500D nylon. For comfort, the chest, belly, and shoulder straps all feature padding to prevent chafe and rubbing.
Dual leash rings on the back and chest allow excellent control no matter where your service dog is positioned. The quick-release buckles enable ease on and off.
Velcro panels on the sides and top provide space to display your service dog's patches and ID. Two large cargo pockets give ample room to stow collapsible water bowls, pickup bags, and other handy service dog gear.
Thoughtfully designed for service animals, this comfortable tactical vest provides versatility and convenience.
The Industrial Puppy Tactical Dog Molle Harness offers incredible durability, storage, and customization capabilities.
Key Features:
1050D ballistic nylon construction
Heavy padding throughout
Front and back leash rings
Drag handle and lifting handle
Extensive MOLLE webbing
Velcro ID patch
Crafted from ultra-durable 1050D ballistic nylon, this Molle harness is built to withstand even the toughest activities. Strategic padding in the chest, belly, and shoulder straps ensures your dog stays comfy and chafe-free.
Dual leash rings on the front and back give you control no matter how your dog is positioned. For lifting or pulling your dog, both a top handle and back drag loop are included.
The extensive MOLLE webbing covering the harness lets you customize the storage by attaching various pouches and gear. A large velcro ID panel displays your dog's information or patches.
For working dogs that need hardcore durability and extensive MOLLE storage options, this harness is a superb choice. Its heavy-duty construction can withstand repeated rugged use.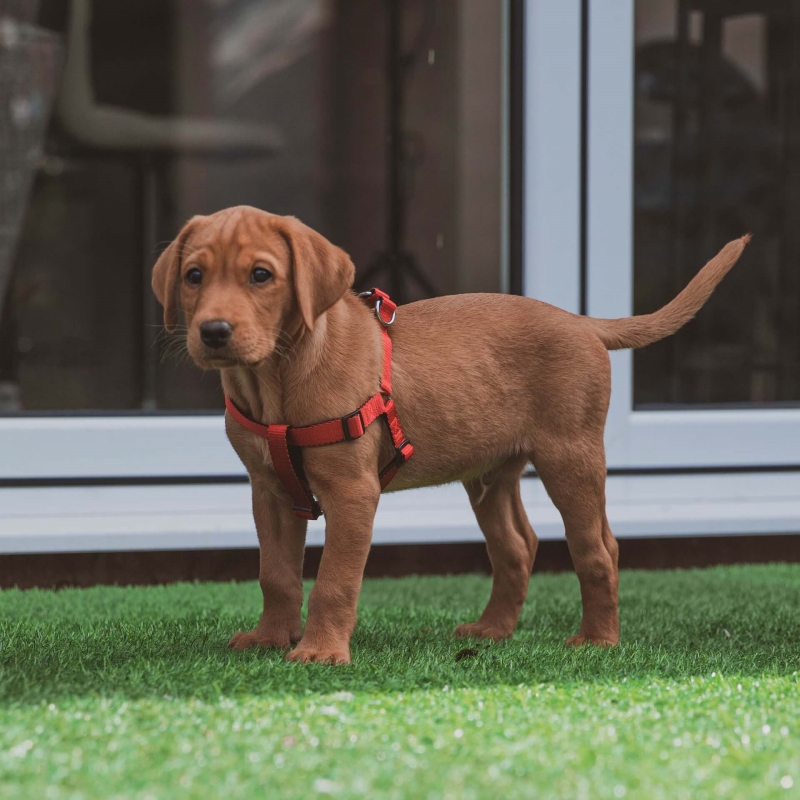 Find the Best Tactical Harness for Your Dog's Needs
Whether you need a harness for a police K9, military working dog, service animal, or adventure companion, selecting the right tactical harness is crucial. Your dog's harness should offer durability, comfort, control, and customization for their unique needs.
Use this expert guide to compare the top models on the market in 2023. Consider factors like construction, padding, leash attachment points, handles, MOLLE capacity, and velcro ID panel when choosing the ideal tactical harness for your pup.
With the right harness, you can equip your dog for specialized working duties or outdoor fun while keeping them comfortable and secure.