For cat owners who love bringing their feline companions on outdoor adventures, having the right gear is essential. A high-quality cat harness allows you to keep your cat safe and under control while exploring the great outdoors together.
Tactical-style cat harnesses, in particular, offer an optimal blend of comfort, versatility, durability, and style for the discerning cat parent.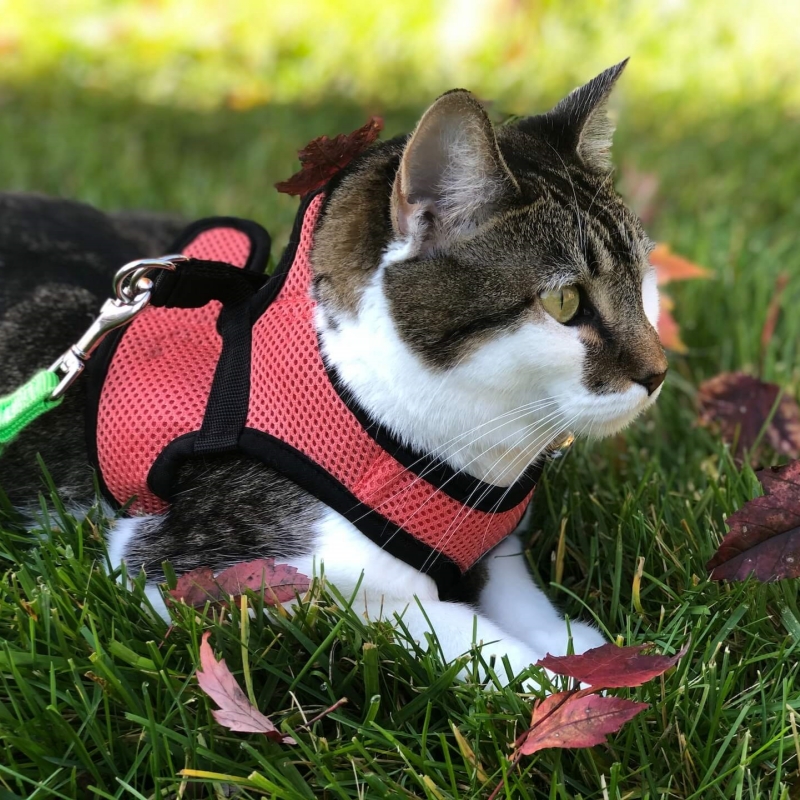 Why a Tactical Cat Harness is a Smart Choice
Tactical harnesses are designed for function, comfort, and performance. Initially created for military and law enforcement applications, tactical gear prioritizes practicality and reliability.
When adapted into a cat harness, these same design principles result in a product that checks all the boxes for an outdoor cat accessory.
Maximum Comfort and Breathability
Comfort is a top priority in a tactical feline harness. The vest-style design evenly distributes pressure across the cat's torso rather than concentrating it on the neck and shoulders. This reduces strain and rubbing that can irritate the cat or cause it to try to wiggle out of the harness.
Tactical cat harnesses are constructed from lightweight, breathable fabrics, usually a durable nylon mesh. This allows for airflow to keep the cat cool and comfortable during active wear. Padding on the chest and belly panels adds cushioning without overheating.
Adjustable straps and a customized fit prevent the harness from putting pressure on sensitive areas. Your cat will appreciate the comfort during long hikes or outdoor play sessions.
MOLLE Compatibility Adds Versatility
A key feature of tactical harnesses is MOLLE webbing panels. MOLLE (Modular Lightweight Load-carrying Equipment) is a system of straps used to attach accessories or additional gear.
The external MOLLE webbing on a tactical cat harness allows you to customize the vest with useful add-ons for your adventures. Some popular MOLLE accessories include:
ID patches or reflective strips for visibility
Pouches to hold waste bags, treats, small toys
Night safety lights
GoPro or action cam mounts
Carabiners or tie-out stakes
You can switch up accessories to suit different activities. The modular flexibility makes a tactical harness much more versatile than a basic design.
Snug and Secure Fit
Unlike some cat harnesses that rely on stretching elastic, tactical models use non-elastic straps that don't stretch out or sag over time. This ensures your cat can't wiggle out of the harness once properly adjusted.
Multiple adjustable straps across the chest and belly allow you to fine-tune the tightness for a truly custom fit. Quick-release buckles make the harness easy to put on and take off without hassle.
Once properly fitted, the snug vest-style wrap hugs your cat's body closely for excellent security and control. You'll have peace of mind knowing your feline is safely secured.
Effortless Control On the Go
A well-designed tactical cat harness gives you maximum control over your cat's movements without discomfort.
A sturdy D-ring on the back connects securely to a leash or long lead. The placement on the cat's upper back makes it easy to gently guide its direction without pulling on sensitive areas.
The vest-style wrap and non-slip interior materials help prevent spinning and wiggling out during leashed walks. Cats who tend to pull on leashes will have an easier time staying polite and focused.
During car trips, the harness safely buckles into a seat belt without twisting. You'll have confident control over your adventurous companion wherever you roam together.
Choosing the Best Tactical Cat Harness
When selecting a tactical cat harness, look for these ideal features:
Breathable, Lightweight Materials
Mesh fabrics allow for cooling airflow to keep your cat comfortable in all temperatures.
Lightweight materials reduce fatigue from wearing the harness for extended periods.
Padding over the chest and belly prevents chafing while still being breathable.
Full Adjustability
Multiple adjustable straps across the chest, belly, shoulders, and neck allow a truly customized fit.
Quick-release buckles make putting on and taking off simple.
Non-elastic straps stay snug and don't stretch out with wear.
MOLLE Compatibility and Accessory Options
MOLLE webbing panels enable you to add accessories like pouches, lights, patches, etc.
Durable D-ring properly positioned for optimal leash control.
Look for included accessories like ID patches and waste bag carriers.
Streamlined, Low-Profile Style
Avoid bulky, overstuffed designs that restrict movement.
The low-profile vest wrap contours the body for comfort and freedom.
Tactical-inspired colors and patterns have rugged styling.
Finding the right blend of comfort, control, and versatility will ensure both you and your cat enjoy your outdoor adventures to the fullest.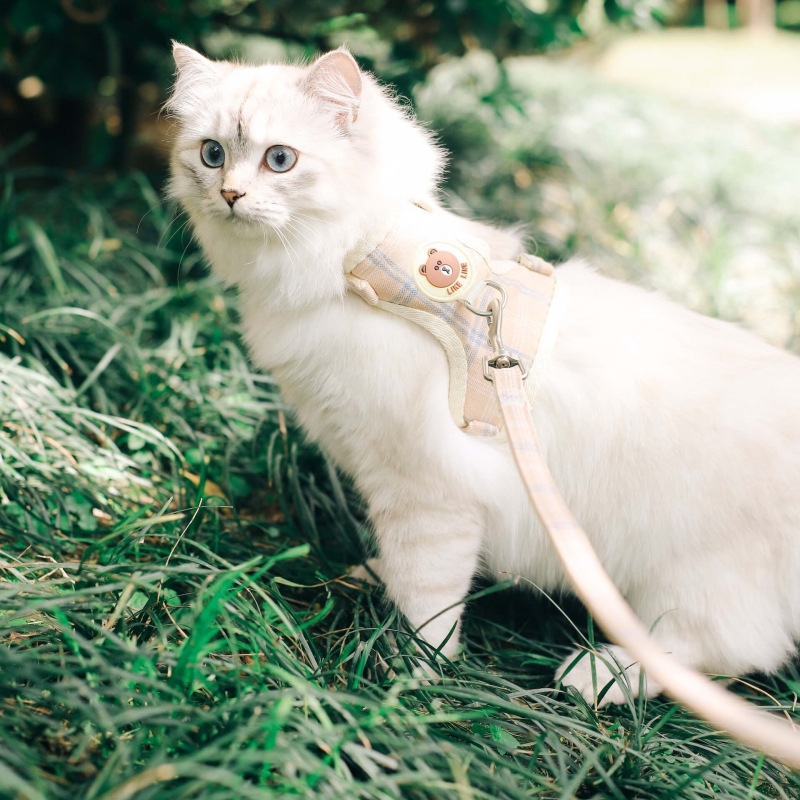 Introducing the Tactical Cat Harness
The Tactical Cat Harness perfectly balances form and function. This harness offers the ideal mix of comfort, security, versatility and style for cats and owners seeking outdoor fun.
Breathable Mesh Fabric, Padding for Comfort
This harness features lightweight, breathable mesh fabric over a cat's chest and belly. This improves airflow and cooling compared to solid fabrics that trap heat.
The mesh chest panel is layered over cushioning foam to prevent chafing. Soft edge binding and interior lining ensure no rough edges irritate the cat's skin.
Adjustable padding on the belly panel customizes the thickness. Your cat rides in total comfort however long the adventure.
Completely Adjustable for Ideal Fit
With its multiple adjustable straps, this vest contours to your cat's unique shape for a truly customized fit.
Shoulder straps slide to adjust the neck opening. The chest straps fine-tune the girth around the widest part of the ribcage. Belly straps can be tightened or loosened as needed.
This full adjustability prevents excess slack or tightness that could allow escape. Once fitted, the vest feels like a second skin for security.
Quick-release buckles on the shoulder and belly make putting on or taking off the harness super easy. Just click and go!
MOLLE Webbing for Ultimate Versatility
This vest harness comes equipped with MOLLE webbing panels on each side.
This allows you to accessorize the vest with your choice of handy add-ons to suit your needs. Attach ID patches, lights, tie-out cords, treat pouches, waste bag carriers, and other MOLLE gear.
With the ability to switch up accessories in seconds, you can customize the harness for hiking, urban exploring, camping trips, or any adventure. The modular flexibility keeps your options wide open.
Tactical-Inspired Style
Beyond its practical features, this harness looks badass. The low-profile vest silhouette gives it a rugged tactical look without restricting movement. Subtle MOLLE detailing adds to the tactical flair.
For added visibility, the harness comes equipped with a hook & loop patch on the back perfect for attaching a reflective ID patch. Keep your companion safe while maintaining the tactical style.
With its blend of comfort, control, versatility, and standout looks, the Tactical Cat Harness is ready for any mission. Your cat will love suiting up for adventure!
Choosing the Right Tactical Cat Harness Size
Since tactical cat harnesses are so adjustable, sizing them correctly is important for the ideal custom fit. Here are some tips:
Measure your cat's chest girth: Wrap a measuring tape around the widest part of their ribcage, right behind their front legs. This is the key dimension for sizing.
Allow room for adjustment: Pick a size range that overlaps your cat's chest girth by at least 2 inches. The extra room allows you to tighten or loosen for the perfect snug fit.
Consider weight: Heavier cats need more surface area coverage, so the vest doesn't ride up. Check the weight ranges for each size.
Mind-body shape: Slim cats do better in more shallow chest vests. Deep-chested breeds may need more belly panel drops. Pick the style that best matches.
Account for seasonal changes: In summer, a looser fitting size allows for more airflow. Snug it up in winter for warmth.
With tactical harnesses being the ultimate in adjustability, you have significant flexibility in choosing the ideal size for your cat. Focus on chest girth as the starting point to dial in the right vest measurements.
Finding the Right Tactical Harness Features for Your Cat
With so many tactical cat harnesses available, it helps to think through what features your unique cat needs most.
Leash Pullers: Prioritize Control
Cats prone to lunging, pulling, or sudden escapes need excellent control from their harness. Seek out:
Snug, non-stretchy strap construction
Secure D-ring leash attachment point
Chest/belly straps that prevent lifting of the vest
Martingale/limited cinch option for escape artists
Preventing your cat from backing out of or twisting in the harness keeps walks secure and polite. Look for the highest quality hardware too.
Skittish Cats: Focus on Calming Features
Nervous or easily spooked cats need a harness they feel safe in, like:
Very soft, padded interior lining for comfort
Loose fit to avoid restraint stress
Appeasing colors and patterns, avoiding bold graphics
Gradual introduction using treats and praise
Keep initial walks very short and rewarding. Let your cat gain confidence at their own pace.
Hiking/Adventure Cats: Seek Versatility
For hardcore adventure cats, pick a tactical vest that's your go-anywhere do-anything sidekick. Must-haves include:
Durable, ripstop tactical nylon materials
Heavyweight stitching that withstands wear & tear
Quick dry fabric that won't stay soaked
Multiple MOLLE panels for accessories
Full rain/outdoor weatherproofing
The right vest harness transforms from trail-ready to urban-ready with some MOLLE accessory swaps. Adventure calls!
Using Proper Tactical Harness Fit and Safety
To get the most from your tactical cat harness vest, follow these important safety guidelines:
Achieve the Ideal Snug Fit
A properly fitted vest should not slide, lift or twist on your cat's body when gently tugged. You should be able to fit two fingers between the harness and your cat's skin.
Adjust the shoulder, chest, and belly straps incrementally until the vest contours the body with no slack. Don't be overtightened to allow airflow and freedom of movement.
Check the fit regularly and adjust as needed seasonally. Growing kittens especially will need periodic tightening.
Mind Pressure Points
Even well-fitted harnesses can rub or apply unwanted pressure. Be mindful of potential problem areas:
Under front legs and armpits
Along the sternum
On the belly or hips if straps are too loose
Around the neck is too tight
Use padding and adjust straps to eliminate chafe points.
Prevent Twisting and Escapes
Double-check that all strap buckles are locked and secure before each use. The vest should not be able to twist on the body when tugged.
Consider a secondary clip or martingale-style cinch to escape artist cats. Always monitor the vest for proper positioning and fit during use.
Introduce Slowly and Use Treats/Praise
To help cats accept wearing a vest harness happily, introduce it gradually:
Let them inspect it out of the box, rub catnip on it
Have them wear it for 5-10 minutes indoors only at first
Pair with favorite treats and verbal praise
Slowly increase wearing time while engaging in positive activities
Advance to outdoor walks at their comfort level
Patience prevents stress. Let your cat move at their own pace getting vest-trained.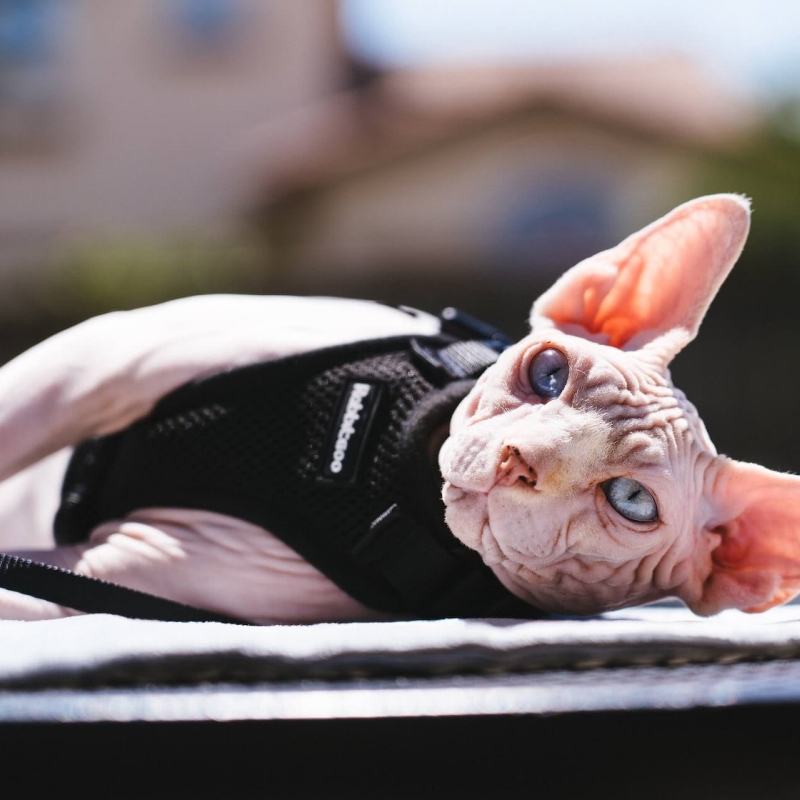 Enjoying Outdoor Adventures Together
One of the greatest joys of cat ownership is being able to bring your feline friend along on outdoor adventures. With a well-fitted tactical cat harness, you can explore the world safely together.
Hiking and Trail Walks
Hit the trails to hike, jog, or walk through nature with your cat companion. Use a longer lead so they can explore safely. Let them set the pace and sniff the sights!
Pack the MOLLE vest with waste bags, treat pouches, safety lights, and an epic hiking cat ID patch. Get those steps together.
Urban Excursions
Give your cat controlled exposure to city sights and sounds. Practice crossing streets together and navigating crowds.
Equip the vest with bright patches for visibility among the stimulus. Let them experience the urban jungle up close to sidewalk patios.
Outdoor Entertainment
Expand your cat's world by bringing them to outdoor venues and events. Sit together in the outfield grass at a baseball game or outdoor concert.
Show them the world is their oyster. Just be mindful of overstimulation and have an exit plan if needed.
Travel and Camping Trips
Include your cat on family road trips and camping getaways. Use their vest harness in the car for safety, and explore new places together.
Let your cat enrich the whole family's experiences. Build outdoor memories that last a lifetime.
With a well-made, properly fitted tactical cat harness vest, the adventures you can experience with your feline are unlimited. You'll both benefit from bonding, excitement, and health perks.
Game on! Time to equip your cat for the great outdoors and make some lasting memories together.