Going on a hiking adventure with your feline friend can be an amazing experience. The fresh air, sights, smells, and sounds of nature are enriching for both humans and cats.
But taking your cat outdoors safely requires having the right gear, especially a high-quality tactical cat harness.
This guide will walk you through everything you need to know to pick the perfect tactical harness for hiking with your cat.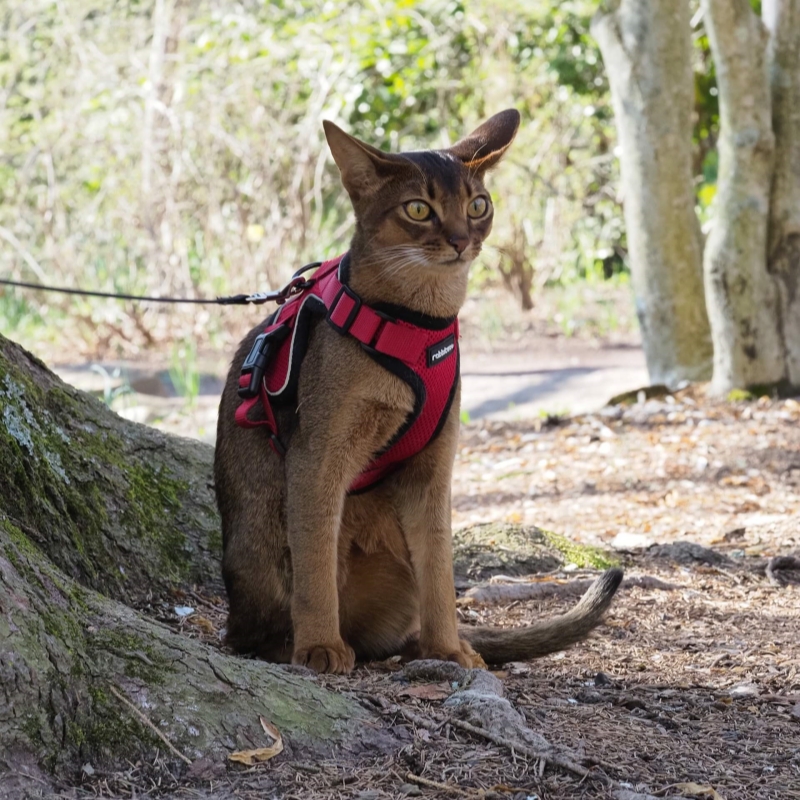 What is a Tactical Cat Harness?
A tactical cat harness is a specialized type of harness that's designed for adventurous cats. It consists of nylon straps in a vest-like configuration that securely attach around your cat's body.
Tactical harnesses are more heavy-duty than standard walking harnesses and feature multiple adjustment points for maximum security.
The defining features of a tactical feline harness are:
Rugged Materials
Tactical cat harnesses are constructed from heavy-duty, rugged materials such as nylon webbing or Cordura fabric. These abrasion-resistant materials can withstand outdoor adventures.
Escape-Proof Design
Tactical harnesses are designed to prevent escape. They have multiple adjustable straps that securely attach around your cat's body and distribute pressure evenly.
MOLLE Compatibility
Many tactical cat harnesses are MOLLE (modular lightweight load-carrying equipment) compatible. This allows you to attach pouches and gear to the harness.
Reflective Accents
Reflective strips improve visibility at night. This is an important safety feature if you're hiking near roads or in low light.
Benefits of a Tactical Harness for Hiking
Hiking with your cat using a standard collar and leash can be risky. Collars can easily slip off or get snagged. And if your cat gets spooked, they may back out of a collar and run off.
A tactical harness offers significant benefits for adventuring with cats:
Security
The snug fit and escape-proof design gives you excellent control over your cat. This allows you to keep your feline friends close by your side where you can protect them.
Safety
A tactical harness disperses pressure evenly across your cat's chest and shoulders instead of the neck. This reduces strain and minimizes the risk of breathing issues if your cat tries to back out.
Freedom of Movement
The vest-style design doesn't impede movement. Your cat will have a full range of motion for hiking, climbing, and exploring while staying secure to you.
Visibility
Bright colors and reflective accents help you keep an eye on your cat. This allows you to quickly spot them even in dense hiking terrain.
Load Bearing
With MOLLE compatibility, a tactical harness lets you attach pouches, water bottles, first aid kits, and other hiking gear to evenly distribute weight across your cat's body.
What to Look for in a Tactical Cat Harness
When shopping for a tactical cat harness, there are a few key features to evaluate:
Adjustability
Look for a harness with multiple adjustable straps so you can custom-fit it to your cat's unique body shape and size. Make sure it's adjustable enough to fit your cat as they grow.
Durability
Check that the harness is constructed with heavy-duty, rugged materials that can withstand the rigors of hiking. Examine the stitching closely for tight, reinforced seams.
Security Features
Look for additional security features like a double leash attachment point for redundancy and extra locking buckles. This prevents escapes.
Comfort Padding
Padding along the chest and belly straps will prevent chafing and discomfort during long hikes. Breathable mesh padding is ideal.
Proper Sizing
Carefully measure your cat and consult individual harness sizing charts. An improper fit will be either unsafe or uncomfortable.
Escape Testing
Test the harness at home first. Check that your cat can't wiggle or back out. Adjust straps as needed until the harness is completely escape-proof.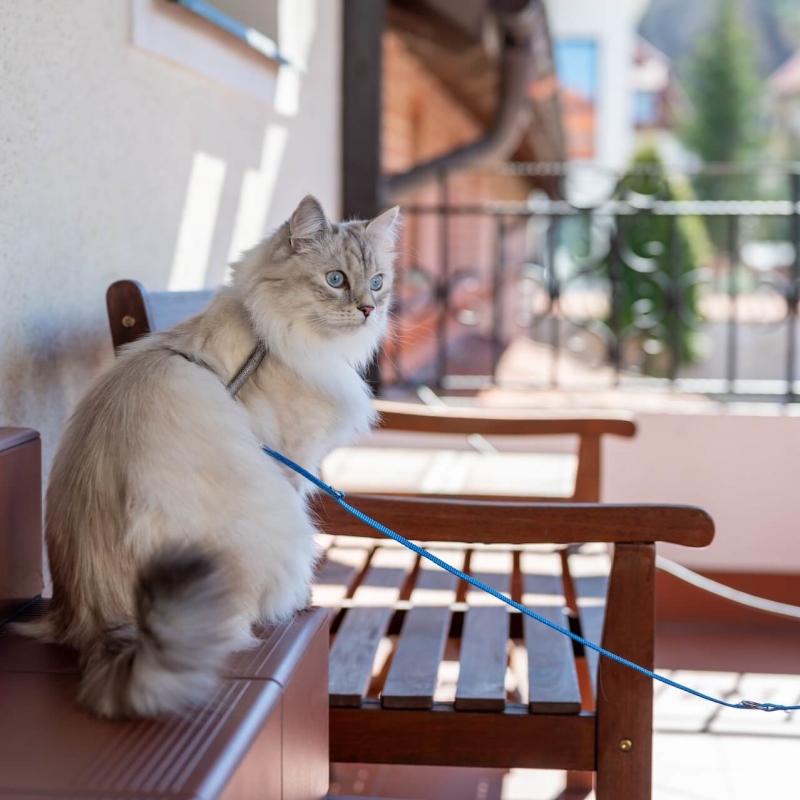 Recommended Tactical Cat Harnesses
Here are some top-rated tactical harness options for adventurous felines:
Experience the epitome of comfort and durability with our Tactical Cat Harness, meticulously crafted from high-grade 1050D nylon. This harness promises not only breathability with its padded mesh lining but also a waterproof, wear-resistant, and tear-resistant structure that keeps your pet cool and comfortable during any adventure.
Kurgo STEP Cat Harness
This rugged, hiking-ready harness has 5 adjustment points for a custom fit. The ripstop fabric and steel nesting buckles hold up to serious use. It features a vest-style design with belly padding for comfort.
The heavy-duty Cordura fabric and steel D-rings make this harness ultra-durable. It has both a top leash attachment and an extra security leash clip at the back. Reflective threading improves visibility.
This highly adjustable tactical-style harness comes with a bungee leash perfect for hiking. The harness has both front and rear attachment points and snug fit for security. Breathable padding provides comfort.
HardRocs Tactical Cat Harness
Made of durable 1000D nylon, this MOLLE-compatible harness is ideal for attaching gear pouches for long hikes. It features heavy-duty metal O-rings, a grab handle, and highly adjustable straps.
Fitting and Using a Tactical Harness Properly
To make sure your cat's tactical harness is comfortable, secure, and used properly on hiking adventures:
Carefully measure your cat before buying and refer to sizing charts. An incorrect size is unsafe.
Gradually introduce the harness at home first so your cat gets used to wearing it. Give treats during training sessions.
Check the tightness and fit. You should be able to fit two fingers between the straps and your cat.
Always attach both a leash and a backup security leash when hiking. Use a sturdy climbing rope.
Let your cat set the pace on adventures and take breaks as needed. Watch for signs of discomfort.
Never leave your cat unattended when in a harness. Provide ample shade and water.
Inspect the harness for damage after each use. Replace at the first sign of wear and tear.
Adventuring with your cat can be amazing as long as you choose the right tactical harness and use it properly. This allows you and your feline hiking buddy to share memorable outdoor experiences safely.
With the tips in this guide, you'll be ready to pick the perfect harness and head out on perfect hiking adventures together.