Whether you're gearing up for a hiking adventure or just want your pooch to strut their stuff around town, a tactical dog harness provides comfort, control, and style.
But the fun doesn't have to stop with the harness alone. From pouches to patches, there's a whole world of accessories out there to customize your pup's tactical getup.
In this blog post, we'll explore some of the top add-ons and accessories to consider to really make your dog's harness complete.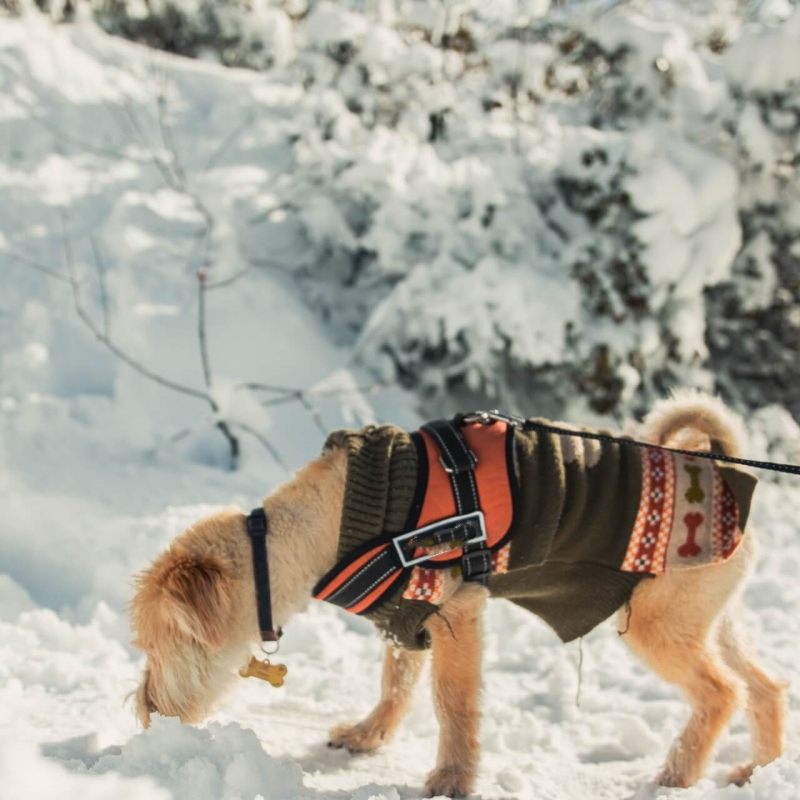 Add Storage with Packs and Pouches
One of the handiest accessories for a tactical dog harness is extra storage space. Packs and pouches attach securely to the harness and provide room to stash all your pup's essential gear for any outing.
Saddlebag Style Packs
Saddlebag-style packs attach a pack to each side of the harness for even weight distribution. They're great for longer hikes when you need to load up on food, collapsible bowls, poop bags, and other trail gear.
Look for packs made with lightweight, durable materials with enough interior pockets and pouches to keep you organized. Make sure to get a size appropriate for your dog's measurements.
Backpack Style Add-On
For a centralized storage option, look for a tactical harness designed to pair with a backpack-style add-on. These usually attach to the upper portion of the harness via Velcro, clips, or buckles.
Just like human backpacks, these hold a good deal of supplies. They're ideal for all-day excursions or even serve as a doggy diaper bag alternative. Provide adequate support by choosing a size proportionate to your dog's frame.
Removable Cargo Pouches
Some tactical harnesses feature removable cargo pouches of various sizes for lightweight storage needs. Look for styles with Molle webbing that allow you to attach and rearrange pouches on the fly.
Small pouches are great for holding waste bags, treats, small first aid kits, and other essentials you want close at hand. Larger pouches can hold collapsible food and water bowls, rain jackets, and casual supplies when you're styling around town.
Illuminate Your dog's Path with LED Lights
For night walks, hiking trips, or camping getaways, adding LED lights to your dog's tactical harness helps keep them visible and shows the path ahead. From simple strips to full headlamps, you have options to brighten your dog's way.
LED Strips
For a budget-friendly option, LED strips attach to the harness via Velcro. Available in bright colors, they stand out against dark surroundings.
They provide visibility for you humans to keep an eye on your pup. While basic, they get the job done for a low cost.
Detachable LED Pods
For more versatility, look for tactical harnesses featuring removable LED pod accessories. These sturdy little lights typically have multiple settings, from steady beams to blinking flashes.
Their compact size keeps them from weighing your dog down while still providing 360 degrees of illumination. You can position the pods wherever needed on the harness for customized lighting.
Full Headlamp Accessories
Harnesses designed for intense adventures may offer a headlamp accessory. Just like human headlamps, these attach firmly to the top of the harness and angle light forward over your dog's head.
Look for adjustable beams and multiple brightness levels. The hands-free light frees your dog up to bound over and around obstacles with a clear field of vision.
Outfit for Any Weather with Jackets, Cooling Vests, and more
From soaking spring rains to chilling winter winds, dressing your dog for the elements helps them comfortably enjoy any season. Many brands offer jackets, cooling vests, and other weather accessories tailored to pair perfectly with their tactical harnesses.
Consider climate-specific add-ons to equip your dog for all of your adventures together.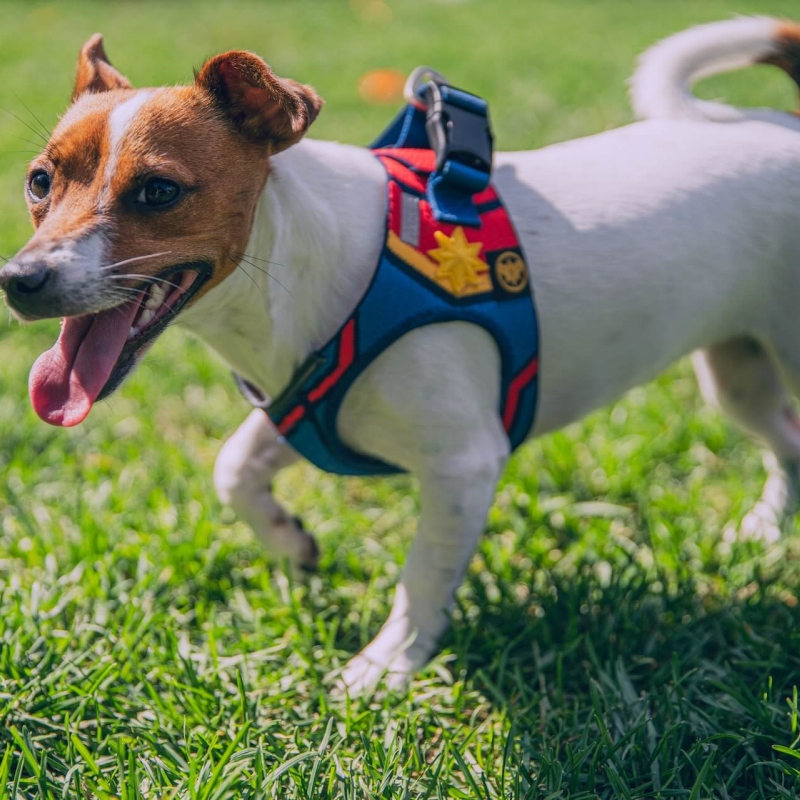 Rain Slickers and Ponchos
April showers bring muddy paws if you don't have a raincoat for your pooch. Harness brands offer water-resistant shells made to snap or Velcro directly onto their designs.
Look for full-coverage ponchos as well as slickers with chest panels to keep your dog's core dry. Make sure the coat is breathable and withstands puddles and paws-on-wet ground when playing fetch.
Warmth-Adding Insulated Jackets
Does your dog shiver when temps dip below freezing? Insulated jackets add cozy warmth for winter walks and romps in the snow. Look for water-resistant outer shells filled with synthetic or down insulation.
Tapered shapes pair with the harness while minimizing bulk. Prioritize proper circulation and mobility in frigid conditions.
Cooling Vests for Hot Weather
Prevent overheating on steamy summer days with the addition of a cooling vest. Look for breathable styles designed to maximize airflow.
Some feature gels that you soak in water to provide evaporative cooling against your dog's skin underneath the harness. Other options may come with ice pack inserts to keep your pup chill.
Add ID Patches, Service Signage, and Reflective Trim
Another way to accessorize your dog's tactical harness is by adding ID patches, service signage, or reflective details. Not only do these serve practical purposes, but they also let your pup show off its personality!
Identification and Info Patches
Customizable Velcro patches on the sides or top of the harness securely hold ID info for quick identification. Include your name, address, phone number, and whether your dog is microchipped or not.
For adventures far from home, these details could reunite you if your dog becomes lost. Fun patches also show off your dog's name, breeds, and interests.
Service Signage
If your dog provides therapy or other services, signage patches proudly share their role without you having to explain it repeatedly. Options like "Do Not Pet", "Therapy Dog", and "Seizure Alert" get the point across while also deterring distracting interactions while your dog is on duty.
Reflective Trim and Piping
Another practical add-on for visibility during low light is reflective trim. Opt for a harness featuring reflective piping along the edges or add removable reflective strips for customizable shine. This reflects light from car headlights and street lamps to help keep your dog in view.
Coordinate Leashes, Collars, and More
Don't forget accessories like leashes, collars, waste bag carriers, and car restraints! Coordinate by choosing accessories in colors or camo prints to match your dog's tactical harness style. Mixing and matching create a pulled-together look while keeping your dog geared up properly.
Leashes with Control
Look for leashes specifically designed to pair with tactical-style harnesses. They'll have appropriate clasp placements and durable materials to hold up to pulling and activity.
Hands-free options like waist belts provide added control, especially in crowded areas. Don't forget a backup roll-up leash just in case!
Collars for Tag-Carrying
Collars pair functionally with tactical harnesses by providing a convenient tag-carrying spot. Look for comfortable, secure fits that won't slip over the harness.
Bring in the fun with camo prints, spike studs, or metallic chains. Consider breakaway safety collars if your dog will wear both at the same time.
Waste Bag Holders & Car Restraints
Don't forget small add-ons like secure waste bag dispensers that attach to the harness and car restraints to keep your dog safely buckled up.
Little details like these make gearing up for adventures with your dog quick and easy. Ready to roll or hike in 60 seconds!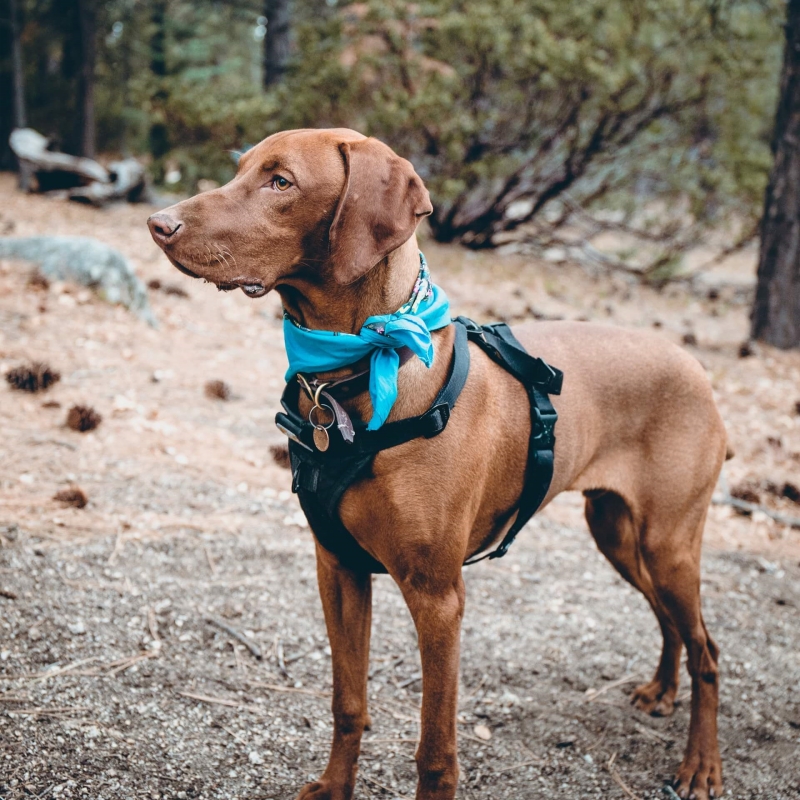 Putting It All Together
With so many options, where do you start with accessorizing your dog's tactical harness? Consider when and where you'll use the harness most.
Hiking through the backcountry requires different extras than cruising through downtown. Factor in your dog's needs and personality too. High-energy pups tend to need more storage and visibility than couch cuddlers along for the ride.
Start with versatile basics, like removable pouches for waste bags and water bottles. Add LED lights for visibility on night walks.
A rain slicker easily tucks away in a pouch for sudden showers. Build up gradually as you observe what works best for your adventures together.
Soon you'll have a customized tactical harness ready to take on any outing in style and comfort!
Key Takeaways: Gear Up Your Tactical Harness
Saddlebags, backpacks & pouches provide customizable storage
LED lights improve visibility and path illumination for night walks
Weather accessories like jackets, vests & cooling gear extend the seasons you can enjoy together
ID patches, signage & reflective trim add visibility and quick identification if needed
Leashes, collars, waste bags & car restraints complete your dog's tactical outfit
Start with versatile basics like storage and visibility, then build up with more gear over time
Customize based on your dog's needs and where you'll use the harness most
With the right accessories, your dog's tactical harness transitions seamlessly from hiking trails to downtown strolls and everything in between.
As you observe how your dog responds, continue adding gear that improves comfort, visibility, and ease. Pretty soon, your pup will be strutting around fully equipped for any adventure life brings your way!